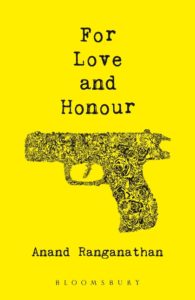 Published

15-08-2015

FORMAT

Paperback

Edition

1st

Extent

360

ISBN

9789385436017

Imprint

Bloomsbury India

Dimensions

198 x 129 mm

RRP

₹ 350.00
Even as Kapil Dev lifts the 1983 World Cup, thousands of miles away, in the dense jungles of Mizoram, a secret mission stands compromised. At a terrible cost. Forced to engage in fierce combat with a group of insurgents, Captain Akhil Mehra loses his right hand.
Leaving the army, he arrives at Carlington tea estate in Assam, owned by the dignified and wealthy Rai Bahadur, hoping to start a new chapter. His troubles, though, are just beginning.Here he meets Norden, the Rai Bahadur's reticent and faithful assistant, the beautiful Indrani and wheelchair-bound Ipsita, the Rai Bahadur's free-spirited daughters, whose cloistered lives are turned-upside down upon his arrival.
Buy this Book at Bloomsbury.