Smriti Irani, what's going on with your ministry?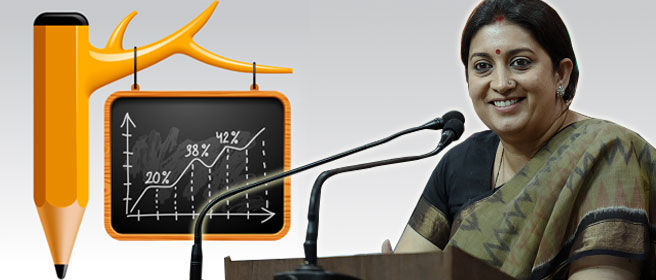 So many promises and so few visionary steps. India is being ill-served by her Minister of Human Resource Development
If a week is a long time in politics, two years is an eternity. The Modi Sarkar that promised Achche Din for 1.2 billion Indians is yet to come true on its promise. India remains a sleeping giant, a land of what-ifs, an area of darkness. To the many who say, "But two years is too little time for Modi to have turned India around!", there can only be one response: two years is an eternity.
Doubtless many of Modi's ministers have performed very well. Doubtless, too, that the last two years have flown by without a major mishap. The kind that, for example, has the force to push a nation off the cliff – like the crises that strike Latin American countries with metronomic regularity, Venezuela being the latest casualty.
India is hobbling, India is stumbling, India is surviving. But something has to make India thrive, not just survive; to make her shine, zoom past all her troubles and into a future that is shown to us every five years, a future that we can only see but never touch. That something is education.
India is in dire straits because education in this country is in dire straits. At the end of two years, one expected a serious assessment of the state of our education, but disappointingly, none of the dozens of newspapers that have churned out column-yards last week on Modi Sarkar's Report card thought it worthy to evaluate Smriti Irani and the Ministry of Human Resource Development.
Education has always been afforded a low priority by our governments and this is especially true for our Central governments. A major reason for this is that education is a State subject. It comes under the Concurrent List in our Constitution, with the responsibility of the Centre limited to coordination and setting the standards for technical and higher education. This is a get-out clause for the Centre. Most of the budget for education goes into paying salaries of those working in either well-established institutions or newly-promised ones. With the Centre having recently increased the budget allocation to the States, the list of excuses for not achieving much in education has only got longer.
Be that as it may, Smriti Irani must be evaluated. She is constantly in the news, and constantly for the wrong reasons. To be sure, many have pretended to evaluate her work – in bombastic media interviews and syrupy garden walks – but in Ms Irani's defense, the answers can only be as good as the questions. No one asks about the Ministry, everyone asks about the minister. This is a shame, especially because, in this author's estimate, Ms Irani holds the most important Ministry in the Modi Sarkar. Her job is one of providing vision while at the same time holding true to her mission. It is time she was evaluated on both counts.
The Mission
The best way to evaluate Ms Irani's performance is to score how well she has done on the promises that were made by her party in its 2014 election manifesto. The table below – the Mission Table – lists each and every promise that was made by the BJP in the field of Education, colour-coded for easy reference (Yellow for announcement; Green for action; Red for inaction).
| | | Manifesto Promise | Date | Progress | Source |
| --- | --- | --- | --- | --- | --- |
| School Education | | | | | |
| | 1 | Sarva Shiksha Abhiyan (SSA) Review: Audit for realtime performance information | 25/04/2016 | Child tracking system for over 200 million children across the nation announced. This year's plan is to track SSA daily online | http://indiatoday.intoday.in/education/story/hrd-smriti-irani-students/1/650683.html |
| | | | | National Assessment Survey (NAS) that was previously done once in three years would now be done every year | |
| | | | | Planning to develop an expenditure portal for centralising the school education data and a portal for Teacher Education Institutes to make grading in examination transparent | |
| | | | | Learning outcome portal being designed by NCERT that will have videos so that outcomes are easily assessed and tests voluntarily taken | |
| | 2 | SSE Universalisation in rural/tribal/difficult areas | 21/12/2015 | HRD Ministry has plans to set up Kendriya Vidyalayas (KVs) in all Lok Sabha constituencies in the country | http://www.ndtv.com/india-news/government-has-plans-to-set-up-kendriya-vidyalayas-in-all-lok-sabha-constituencies-smriti-irani-1257406 |
| | | | 29/02/2016 | 62 new Navodaya Vidyalayas to provide quality education -Union Budget 2016 | http://indiatoday.intoday.in/education/story/union-budget-education-2016/1/608371.html |
| | | | 2014-15 | Ishan Vikas special scholarships for North-eastern states, NITs planned (higher education) | http://mhrd.gov.in/sites/upload_files/mhrd/files/document-reports/Part1.pdf |
| | 3 | Girls encouraged to complete school | 2014-15 | Scholarships instituted; Saakshar Bharat, Udaan programmes | http://mhrd.gov.in/sites/upload_files/mhrd/files/document-reports/Part1.pdf |
| | 4 | Special pedagogy for differently-abled | 2014-15 | Saksham scholarships Rs. 5 cr p.a. instituted ; No new pedagogy methods/schools/inclusive schemes | http://mhrd.gov.in/sites/upload_files/mhrd/files/document-reports/Part1.pdf |
| | 5 | National modernisation of Madrasas | 01/02/2015 | Minister addressed a national symposium on "Educating and Mainstreaming of Indian Muslims". No news since then. | http://indianexpress.com/article/india/india-others/smriti-govt-taking-steps-to-modernise-madrasas/ |
| | | | 07/11/2014 | Rs 100 crore for modernisation of Madrassas – Union Budget 2014 | http://www.oneindia.com/feature/union-budget-fund-madrasa-modernisation-programme-must-be-u-1481189.html |
| | 6 | Mid-day meal scheme revitalisation | 2014-15 | Tithi bhojan scheme | http://mhrd.gov.in/sites/upload_files/mhrd/files/document-reports/Part1.pdf |
| | 7 | National Digital Library (NDL) | 01/05/2015 | Project for development of NDL granted to IIT Kharagpur and a sum of Rs. 9.97 crore has been released for the project in March, 2015, as first instalment. IIT Kharagpur is to prepare a blue-print for development of NDL by looking into all aspects of the project. | https://ndl.iitkgp.ac.in/ |
| | 8 | Creative talents of students to be recognised and encouraged | 13/11/2015 | Kala Utsav for school students in all the states to showcase their talent | http://echoofindia.com/kolkata-union-hrd-minister-announces-array-policies-97787 |
| Higher & Professional | | | | | |
| | 9 | Teacher's training to be reworked | 2014-15 | Accreditations being instituted under Pt. Madan Moham Malviya National Mission for Teacher's Training | http://mhrd.gov.in/sites/upload_files/mhrd/files/document-reports/Part1.pdf |
| | 10 | Close interaction between academia, industry, community | 28/10/2015 | The Minister said: "We want the IITs to help in the Make in India campaign, by investing in research and link innovation to the industry." The Rs. 250 crore purse will be used to fund several projects for up to Rs. 5 crore, provided they meet the standards stipulated. "The proposals will have to specify the time-frame, the outcome and the benefits that the industry stands to gain from the research to be eligible for the funds. We are looking at Rs. 1,500 crore over the next three years to give manufacturing a boost." | http://www.thehindu.com/news/national/iits-asked-to-partner-industries-for-funding-research-projects/article7811275.ece |
| | | | | Unnat Bharat Abhiyaan anounced: 16 IIT/NITs to adopt 132 villages for sustainable development of society | http://mhrd.gov.in/sites/upload_files/mhrd/files/lu2926.pdf |
| | 11 | Autonomy to higher learning centers | 23/3/2016 | 500 colleges made autonomous so far (UGC). Affiliated colleges that have obtained the highest grade from NAC in the past 10 years will be given autonomous status. | http://www.deccanchronicle.com/nation/current-affairs/230316/granting-autonomous-status-to-colleges-made-easy-irani.html / http://www.telegraphindia.com/1160413/jsp/nation/story_79910.jsp#.VzQ22o1f3X4 |
| Vocational Training | 12 | Aprrenticeship act to facilitate Earn while they learn | 29/02/2016 | Rs 500 crore scheme announced for promoting entrepreneurship among SC/ST | http://indiatoday.intoday.in/education/story/union-budget-education-2016/1/608371.html |
| | | | | | |
| | 13 | Vocational qualifications | 29/02/2016 | National Skill Development Mission has imparted training to 76 lakh youth (Ministry of Skill Development and entrepreneurship) | http://indiatoday.intoday.in/education/story/union-budget-education-2016/1/608371.html |
| | | | | Rs 1,700 crore announced for 1500 multi-skill development centre; To skill one crore youth in the next 3 years under the PM Kaushal Vikas Yojna -Union Budget 2016 | http://indiatoday.intoday.in/education/story/union-budget-education-2016/1/608371.html |
| | | | 2014-15 | M.Voc Degree instituted – 2035 schools involved | |
It must be said that Ms Irani has made good progress, although a hard taskmaster would have expected better. Still, for those who have judged her by sound bytes or controversies, it may come as a surprise that she doesn't fare too badly.
The Vision
To cut to the chase, Ms Irani has been a failure. One would have expected her to have had ample time at her disposal to formulate a core set of ideas that would define the state of our education well beyond the five years that are allowed her. While she is required to fulfill her party's election promises, the portfolio she's been given requires her to have vision, which in turn means to go over and above her ministry, party, and even Prime minister. What would education look like in India, in 2030? What are the policies, and the institutions needed? What are the institutions that would most certainly fail to get us to where we'd like to see ourselves in 2030? Two years ago, this author had written in detail on the abject state of our education, our schools, and in particular our universities. Little has changed; in fact, things have only gotten worse. A visionary minister would have realized at once what needed to be done. The table below – the Vision Table – is but a sad reflection of what Ms Irani has achieved or set out to achieve in this context.
Manifesto Promise
Date
Progress
Source
Comments
School Education
1
Content review – to make it stress-free, dynamic, attractive, responsive
No major initiative reported
2
Reduce daily burden of carrying books – digitalisation
13/11/2015
Launched an application 'e-pathshala' including all the books of NCERT in all Indian languages free of cost
http://echoofindia.com/kolkata-union-hrd-minister-announces-array-policies-97787
Success of digitalisation of books and course material will be directly linked to internet penetration, and availability of an educational handheld device/computer with whosoever is enrolled in the Sarva Shiksha Abhiyaan. The chances of this scheme being successful are bleak – the Akash project has been shut down; no other alternative has been spoken about
29/02/2016
Digital literacy scheme to be launched for covering six crore additional rural households
http://indiatoday.intoday.in/education/story/union-budget-education-2016/1/608371.html
Higher & Professional
3
Need Assessment for future requirements of the economy to develop appropriate courses
No major initiative reported
4
Raise standards of universities to join global league
05/11/2015
The Minister declared 10 scientific research domains to be included under 'Imprint India' to support the scientific research work in the country. IMPRINT-India launched in Nov 2015. MHRD funded Pan-IIT and IISc joint initiative aimed at giving a Research Roadmap to address major engineering and technology challenges in ten selected domains relevant to our country's needs.
http://echoofindia.com/kolkata-union-hrd-minister-announces-array-policies-97787
Hope a specialised panel leads it, one whose members can articulate their thoughts better than the Minister (see below).Ms Irani's Kolkata Seminar Speech Quotes (2015): 1. A hue and cry is often raised about our higher education institutes not figuring in global rankings. The reason is not lack of high quality research work but the fact that in India a large section of research work is done in vernacular languages whereas global rankings only consider research in English. 2. A large section of research work is done in vernacular languages whereas global rankings only consider research in English.
29/02/2016
10 public and 10 private educational institutions to be made world-class announced in Union Budget 2016. The government is yet to allocate funds for the proposal; institutions have not been identified as of May 2 2016
http://www.thestatesman.com/mobi/news/latest-headlines/govt-plans-to-make-20-institutions-top-class/139847.html#IzFEfGlTlx59EptG.99
National Ranking Framework is being designed. RUSA and NQRI have been allocated budget of Rs. 17 crore in 2015 for accreditation of institutes. Criteria to cherry pick 20 not shared.
16/05/2016
MoUs being signed with MIT and Stanford University for improving syllabi in NITs
http://www.business-standard.com/article/pti-stories/new-education-policy-to-be-announced-before-may-26-irani-116051600817_1.html
5
Transparency in appointments to senior positions
No major initiative reported
6
Set up a National Commission For Education to report in 2 years on needed reforms to implement a National Education Policy
Discussion initiated on MyGov.in by HRD Ministry.
https://mygov.in/group/new-education-policy/
Additionally, Ms Irani was also, as is the case with every politician, was bitten by the 100-day bug. The table below shows how she has fared.
| | | 100-days priorities | Date | Progress | Source |
| --- | --- | --- | --- | --- | --- |
| School Education | | | | | |
| | | None | | | |
| Higher & Professional | | | | | |
| | 1 | UGC's transformation into Higher Education Commission: Restructure UGC from a grants disbursing organistaion to one that maintains standards and regulates educational institutions as a 100-daypriority | Jun-14 | ScrutinyAs the Centre allocated 65 per cent of the fund for infrastructure and capacity building of the state varsities and colleges under the scheme, suggestions were made to the ministry on subsuming some of the granting powers of the UGC into the RUSA Mission Authority, set up to implement the scheme towards amendment of the UGC Act | http://www.educationanalysis.in/news/ugc-restructure-soon-to-boost-efficiency |
| | | | Apr-15 | Proposed dissolutionA committee of Education Ministry requested to dissolve UGC stating that any kind of changes in UGC will not help. It would be better to constitute a Higher Education Authority. The report submitted by the panel said that UGC is Ňplagued in the main by reductionism in its functioning. 'It further stated: ŇIt (UGC) has side-stepped its function of being a sentinel of excellence in education and embraced the relatively easier function of funding education.' | http://www.abplive.in/india-news/dissolve-ugc-requests-committee-formed-by-smriti-irani-92897 |
| | | | Apr-15 | Executive powers to the HRD Ministry on all UGC decisions:A draft bill prepared stating that till any such body is constitutionally enacted, the HRD ministry can opt for as many changes as it may deem necessary through executive order.One such important change suggested by the panel is to do away with the mandatory 10-year experience as a professor to become vice-chancellors. Another is to introduce a national research aptitude test for admission to Ph.D programs. | http://edunews.successcds.net/hrd-panel-suggests-ugc-to-be-scrapped-18532.html |
| | | | Oct-15 | New guidelines still being passed by the UGC: e.g., the students who are unable to complete the course within the normal time period will be given two extra years to clear the exams for qualifying a degree. Normally no student will be given any chance beyond the extended time period of two years. However, in special cases they may also get a third chance. | http://edunews.successcds.net/new-ugc-guidelines-for-higher-education-proposed-112335.html |
| Vocational Training | | | | | |
| | 2 | Massive Open Online Courses | 13/07/2015 | 29 essential text books for undergraduate courses have been launched through the app 'e-UG shala' that was handed over to the states on December 25; the department is thinking about a similar one for post-graduate courses | http://echoofindia.com/kolkata-union-hrd-minister-announces-array-policies-97787 |
| | | | 29/02/2016 | Entrepreneurship, Education and training will be provided in 2200 colleges, 300 schools, 500 government ITIs and 50 Vocational Training Centres through Massive Open Online Courses. Aspiring entrepreneurs, particularly those from remote parts of the country, will be connected to mentors and credit markets | http://pib.nic.in/newsite/PrintRelease.aspx?relid=136991 |
| | | | | SWAYAM (MOOC programme): expected launch date in 2017 | http://articles.economictimes.indiatimes.com/2016-03-11/news/71416595_1_hrd-minister-smriti-irani-institutions-new-education-policy |
| | 3 | Set up the Distance Education Council of India | 19/04/2016 | IGNOU programme recently scrapped, and moved under UGC | http://www.sunday-guardian.com/news/hrd-minister-sets-e-learning-as-priority |
How does one develop human resource? Can one do it with small increases in the budget, with thousands of teaching positions that lie vacant, with universities sanctioned on paper, with institutions that have long outlasted their value? Can one develop India without increasing manifold the money that is spent on Education? Can one develop India without the Minister for Education blackmailing, even threatening the Prime Minister and Finance Minister for more money? The answer is an unequivocal no. This isn't rocket science, this is common sense.
Comparisons with United Progressive Alliance show there is nothing out of the ordinary that the National Democratic Alliance has achieved in the first two years of its term. Worse, the functioning of each of the six institutions under the aegis of MHRD — be it the ICHR, AICTE, UGC (appointment made by the UPA), COA, ICSSR or ICPR — reeks of political interference, incompetence, vilification, or plain ineptitude. To be sure, the MHRD has reviewed the functioning of some of the institutions mentioned above and the reviews have been scathing, like for example the review of AICTE. But reviews are like Commission reports – they are destined to gather dust atop the Godrej almirah in the corridor.
The state of School Education is dire. In 2015, a quarter of a million primary school teachers took the Maharashtra Annual Teacher Evaluation Test and only one per cent passed. There is currently a shortage of 9.5 lakh primary teachers. India spends roughly four per cent of her GDP on education. Expenditure on education under the British (in 1947) was Rs 57 crore. By 1965, under Prime Minister Jawaharlal Nehru, it had jumped to Rs 600 crore, although as a percentage of GDP spent, it was still less than half of what Japan was spending on education. In 1966, India spent on education one-hundredth of what the United States of America did per head.
Fifty years have gone by and yet we are as far removed from good education as we are from cleaning the Ganga. Education is not a priority for us and this is evident from the budgetary allocations for this year. In 2015-16, MHRD budget has been slashed by 6.3 per cent from its 2014-15 allocation and the 2016-17 budget estimate (Rs 92,666 crore), though higher than last year, is still less than the 2014 figure. The Sarva Siksha Abhiyan allocation is down by 20.74 per cent, the Support to education, including teacher training, by 36.55 per cent. Of course, if one were to ask Ms Irani she would doubtless say that the budget has been distributed, or that it fluctuates year on year. But a visionary would know and appreciate that the education budget should never be slashed come what may, simply because the money that is allocated to MHRD it is never enough. Never ever never ever.
The verdict is clear. Things can no longer be allowed to carry on like this. One cannot just go on making more and more promises without realising the ones made already. The recently-announced Higher Education Financing Agency, to be set up with a seed fund of Rs 1,000 crore, is yet another promise. Everything cannot be in the pipeline forever, given that the pipeline has also corroded beyond recognition. Nitin Gadkari, Minister of Road Transport and Highways, has realized this. In a recent interview, he said – and I am paraphrasing — that the Finance Minister doesn't give his ministry the money he needs so he's going to make arrangements so that he gets the Rs 20 lakh crore that he needs for his plans. This is what is required, of every Ministry, of every Minister in the Modi Sarkar. Give Modi hell, get your job done. If you can't, make way.
Ms Irani has been decent on Mission, poor on Vision. She needs to make way for someone who would be great on both.
This article first appeared in newslaundry on May. 26, 2017.