The conversation Anupam Kher never had, but could've had if he would've had some lib creds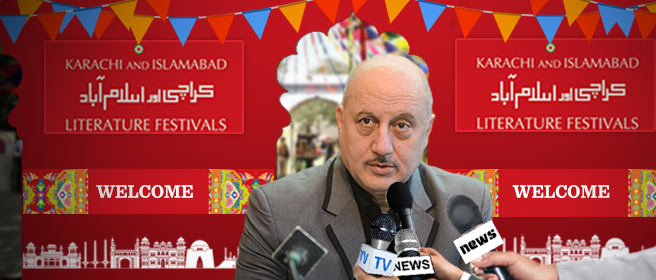 A chat with Anupam Kher in sun-soaked Karachi at the Karachi Literary Festival by our intrepid reporter
He is the man of the moment, a man Indians love and the Indian government hates. Anupam Kher, 60 years young, an actor, an activist, a human rights campaigner, is facing the heat. And loving every moment of it. "Fascists hate me," he declared recently at the Badarpur Literary Festival, "Come and get me. Knock on my door at midnight. I'm waiting."
I'm waiting. For Mr Kher. His session at the Karachi Literary Festival – of which he was the star attraction – has just concluded. 1560 Pakistanis – both young and old; 23 white men and women – all historians; 3 generals – in-service and retired; and 17 Indians – 16 of them journalists-turned authors, all rise and applaud in unison. They have latched on to his every word, every cry of a grass-root revolution against intolerance and fascism that he says is sweeping India. Mr Kher, who yesterday received from the Prime Minister of Pakistan her highest civilian honour, the Nishan-e-Pakistan – becoming only the second Indian after Morarji Desai to have achieved this rare feat – bows generously, leaves the stage, and then returns to pat the air, requesting that the incessant applause be quelled. The audience relents and then proceeds to mob Mr Kher. He is all smiles, shaking their hands while looking at his watch at the same time like Nixon. "So much love," he repeats after every breath, "So much love."
I accost him just as he is about to climb into a Volvo XC90 parked at the entrance of the convention hall.
"Mr Kher," I shout, ignoring the rude shoving from his bouncers, "I'm from NDTV. Have travelled all the way to Karachi to interview you. Just 15 minutes, Mr Kher."
"Sorry, young man," replies Mr Kher, then pauses. "NDTV, you said? Hop in. 10 minutes."
I hop in. "Thank you, Mr Kher."
"Your time starts now."
"Yes," I mumble nervously. I have forgotten my questions. My mind has gone numb. I can't think straight. My conditioning has deserted me. All I can think of are questions that are not motivated, that are unbiased, rational, and objective. This is hopeless. I might be sacked when I get back. But I must prod on.
"Well?"
"First of all Mr Kher, heartiest congratulations on receiving the Nishan-e-Pakistan. Only the second Indian to have done so, and the first who refrains from recycling his own bodily fluids."
"Thank you," smiles Anupam Kher.
"Will you also return it in the future, like you returned last month your Padmabhushan that you had received in 2012 from the UPA?"
"I don't think the Pakistan government will let loose a tsunami of intolerance like Modi's government has. These are peace-loving people."
"Are you telling me intolerance is not growing in Pakistan but is in India?"
"You have any doubts? Anyway, it is best if you were to restrict yourself to questions that pertain to India. We are on foreign soil."
"Sure. Mr Kher, you led a march last month protesting against growing intolerance; you returned your Padma award; you were on TV every night discussing the Dadri incident."
"Yes. India is witnessing a great churn. Churches are being attacked. This is not the country I want."
"But you know that the Church attacks were all proven to be burglaries. There was no religious angle. And the sexual assault on the nun was-"
"So what? The Idea of India stands threatened. One can't even eat what one wants now. I can't eat beef. BJP has made sure of it."
"But beef was already banned in 23 states, most of them ruled by the Congress."
"Didn't you hear the statements made by these BJP ministers on cows? Thugs."
"The CM of Uttarakhand, a congress ruled state, said cow killers have no right to live in this country."
"Don't indulge in whataboutery."
"The Dadri incident, you said, was symptomatic of how Indians under the BJP have resorted to outright lynching."
"It is."
"But you were silent on the incident that followed Dadri – the brutal lynching and murder of Prashanth Poojary."
"Like Rajdeep said, the two lynchings are different. Poojary was associated with a Hindutva group. He was asking for it. This lynching was unfortunate but not brutal."
"Are their degrees of brutality?"
"Don't indulge in whataboutery."
"At the Ooty Literature Festival, you spoke on how Modi was murdering freedom in this country by going after Teesta Setalvad."
"Damn right, he is. Never seen a more honest person than Teesta."
"Are you aware of the alleged financial bungling carried out by Ms Setalvad's NGO, admitted to by even the courts?"
"Don't indulge in whataboutery."
"At the Kochi Literature festival, you called for a dharna to protest the court's verdict on Sanjiv Bhatt."
"You will find me wherever there is injustice."
"We are talking of the Supreme Court."
"There exists a court higher than the Supreme Court."
"At the Khushwant Singh Literary Festival, you said India is under an Emergency, one that writers like Khushwant Singh always fought against."
"Yes."
"But Khuswant Singh supported the Emergency. He even wrote a book titled, "Why I supported the Emergency."
"Don't indulge in whataboutery."
"At the Faridabad Literary Festival, you said Dadri was a constant reminder of the growing intolerance under Modi."
"Absolutely."
"But you were silent when hundreds of thousands of people poured on to the streets every day in tens of cities demanding that Kamlesh Tewari be beheaded for his comments on the Prophet. Sar tan se juda."
"Don't indulge in whataboutery."
"You said Dadri was not an isolated incident."
"It wasn't."
"But you said the horrific Malda rioting was."
"Don't indulge in whataboutery."
"You participated in a sit-in when an FIR was lodged against Ms Setalvad for depicting Goddess Kali as ISIS."
"I did. Freedom of expression is sacrosanct."
"But you wrote a column in which you said the Charlie Hebdo cartoonists shouldn't have crossed the line."
"Don't indulge in whataboutery."
"Since Dadri, dozens of communal incidents have taken place, incidents that are perpetrated by criminals irrespective of their religious denomination."
"Your point being?"
"In Pune, 17 year-old Savan Rathod was burnt alive because he was a Hindu. He said so in his dying declaration. You called it an isolated incident and cautioned the media against covering it like they did Dadri."
"Don't indulge in whataboutery."
"You protested the recent cancellation by the government of 10000 NGO licences for FERA violation."
"It is an unheard of, unprecedented travesty perpetuated by the government."
"But in 2012, the UPA cancelled 4138 NGO licences for FCRA violation."
"Don't indulge in whataboutery."
"You cried intolerance when a beef party was disrupted by the police."
"Of course. What right do the police have in stopping such a thing?"
"But you commended the Kerala police when they arrested 50 people for organising a pork party."
"Don't indulge in whataboutery."
"You are a Kashmiri Pandit. However, you have always distanced yourself from the Kashmiri Pandit cause."
"I have. For a reason. I was born in Shimla. I have no right to speak for, or take up the cause of the Kashmiri Pandits."
"But last year you led a candlelight march from India Gate to the Israeli embassy in solidarity with the people of Gaza."
"Don't indulge in whataboutery."
"You found the recent campaign against Snapdeal and Aamir Khan preposterous. Rightly so."
"Thanks."
"But four years ago you had called for the cancellation of a Honey Singh concert because you said you hated him."
"Don't indulge in whataboutery."
"You said recently that no writer or festival should be boycotted."
"That goes without saying."
"But you boycotted the Bangalore Literature Festival – and called for writers to do the same – because you didn't agree with the Festival director."
"Don't indulge in whataboutery."
"At the Jaisalmer Literature Festival, you said the Modi government was responsible for growing intolerance and increasing crimes against the Dalits."
"I did. No other government in the history of independent India has had to watch over such a despicable scenario."
"In 2013, during the UPA, there were 108 crimes committed against Dalits every single day. 5 dalits were raped every single day. I repeat – every single day."
"Don't indulge in whataboutery."
"You wrote an op-ed last week saying women must be allowed to enter the Sabarimala sanctum sanctorum, and that women's rights cannot be held hostage to religious and cultural practices."
"I did. Religion cannot have any say whatsoever in what women can or cannot do. What has been happening for a thousand years is a travesty."
"But last year you supported the stand of The All India Muslim Personal Law Board on the Uniform Civil Code. You said the courts had no business in interfering in or commenting on religious practices."
"Don't indulge in whataboutery."
"You wrote against the practice of ghoonghat."
"Of course, I did. Medieval. Barbaric."
"But last year you wrote supporting the burka and the niqab."
"Don't indulge in whataboutery."
"When a mob in Dewas, Madhya Pradesh ran amok, you said it was living proof that intolerance had reached untenable levels in Modi's India."
"Indeed. Mob violence is on the increase. The trend is alarming. What more evidence do you need of growing intolerance?"
"But when a mob in Bengaluru set fire to a Tanzanian woman's car and stripped her naked, you said India is unfortunately infamous for such incidents."
"Don't indulge in whataboutery."
"You led protest marches and carried out a signature campaign when Pakistani writer Kanza Javed was denied an Indian visa to come and attend a literature festival."
"And I am proud of it. The Modi government is draconian."
"But when your colleague, the director Vivek Agnihotri, was denied a visa to Pakistan to attend the Karachi Literature Festival, you were silent."
"Don't indulge in whataboutery."
"You recently supported the call for a blanket ban on all cars that run on diesel."
"About time someone took a stand."
"But you own 4 diesel SUVs."
"Don't indulge in whataboutery."
"This is your ninth visit to Pakistan in two years. Wherever you have gone, you have talked of the growing intolerance in India and the need for a revolution."
"The people of Pakistan love me. As do the people of India."
"You said recently that you were – "
"One moment. Young man, I've had just about enough of you."
[At this point Mr Kher dials a number on his iPhone. What follows is the transcript of the conversation I overheard.
"Hello? Is that you, Barkha? Achcha listen, I have this reporter who says he is from NDTV. To be honest, it doesn't look like he is. Sorry? Yes, clean-shaven, young, smart, dashing even. No, no, he's not Vishnu. Obviously not. He's throwing data at me. Sorry, could you repeat that, your voice is breaking. Hel-? Hello?]
Mr Kher slips the phone back in his pocket and looks straight at me. "Young man," he says, "I don't know who you are, but what I do know is that you ask really easy questions. A one-winged mosquito lacking proboscis has more bite. You can never become a famous journalist."
I nod.
"Your 10 minutes are over. Now you must leave. Driver?"
The driver does the needful. The car screeches to a halt. As I climb out the 2400 cc diesel behemoth I can't resist one last question.
"Mr Kher, what about-"
"Stop right there, young man," says Mr Kher, misty-eyed, "You had me at what-about."
This article first appeared in newslaundry on Feb. 08, 2016.